Black Forest Cheesecake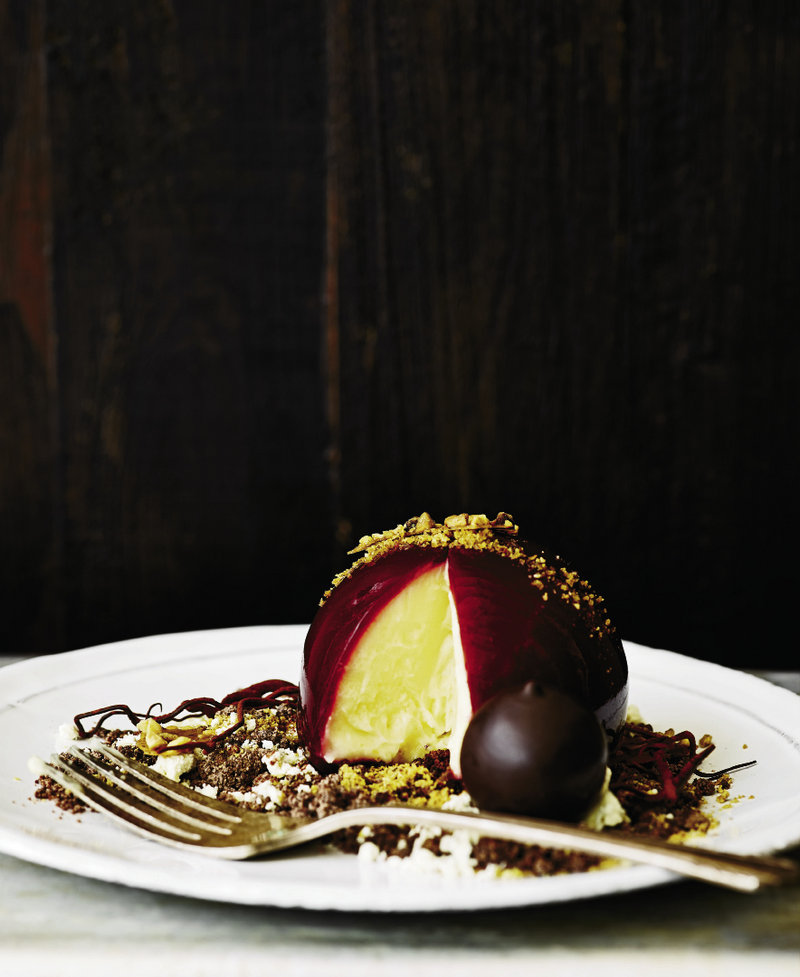 DESCRIPTION:
Courtesy of Katie Button (Serves 8) Equipment: One 9-inch by 2½-inch or higher springform pan, greased and bottom lined with greased parchment or wax paper; wrap outside of the pan with a double layer of heavy-duty foil to prevent seepage. One roasting pan to serve as a water bath.
INGREDIENTS:
Crust: 1 9-oz. box chocolate wafer cookies 2 oz. bittersweet chocolate, coarsely chopped 5 Tbsp. unsalted butter, melted Cheesecake Batter: 1 lb. cream cheese, room temperature   1 lb. mascarpone, room temperature 1 cup sugar Zest of 1 lemon 4 eggs, lightly beaten   2 Tbsp. lemon juice Cherry Sauce: 3 lbs. fresh, pitted cherries 1/4 cup & 2 Tbsp. sugar 1 lemon, zested in large strips 1/2 lemon, juiced 1/4 cup sherry 1/2 tsp. vanilla extract 2 Tbsp. cornstarch 1/4 cup water 2 Tbsp. butter  
DIRECTIONS:
Crust: Preheat oven to 325°F. Finely grind cookies and chocolate in food processor. Transfer to a bowl, add butter, and stir until moist clumps form. Using plastic wrap as an aid, press crumb mixture onto bottom and one and a quarter inches up sides of greased springform pan. Bake until set, about eight minutes. Cool completely. Cheesecake Batter: Preheat oven to 325°F. In a large mixing bowl, use a whisk to beat cream cheese, mascarpone, sugar, and lemon zest until very smooth, about three minutes. Add the eggs, one at a time, beating after each addition until smooth and scraping down the sides. Add lemon juice and beat until incorporated. Pour batter into prepared springform pan with crust. Set pan in the larger pan and surround it with one inch of very hot water. Bake one hour 30 minutes. Turn off the oven without opening the door and let the cake cool for one hour. Remove to a rack and cool to room temperature, about one hour. Cover with plastic wrap and refrigerate overnight. Cherry Sauce: Remove pits and stems from cherries and cut in half. Reserve one pound. Place two pounds in medium saucepan. (May substitute two pounds frozen cherries.) Add sugar, lemon zest, lemon juice, and sherry, and simmer for 20 to 25 minutes, stirring occasionally. Place a sieve over a mixing bowl. Scoop the cherries into the sieve a little at a time and press the cherries with the back of a wooden spoon to release the juice and pulp into the bowl. Scrape the skins and lemon zest out of the sieve and discard. Repeat until all the cherries have been juiced.   Return juice to the saucepan over medium heat and stir in vanilla. In a small bowl, create a slurry by combining cornstarch and water, and slowly whisk slurry into the cherry sauce. Bring to a boil to allow sauce to thicken. Add in the remaining pound of cherries and fold into the sauce. Return sauce to a boil, then remove immediately and whisk in the butter. Let sauce cool completely. Drizzle over cheesecake before serving.